HPCI Program for Computational Life Sciences, RIKEN
Chisa Kamada
This February, Mr. Yukihiro Eguchi, Deputy-Program Director of Field One of the Strategic Programs for Innovative Research (hereafter "Field One"), delivered an invited lecture in the "4th Science Fair in Hyogo" at the Kobe International Exhibition Hall. Following the presentation, Professor Kuniyoshi Ebina asked that Field One provide a Special Lecture for the Kobe University subject, entitled "Invitation to Human Development Interdisciplinary Subjects". This compulsory course targets undergraduate students entering the Faculty of Human Development.

The Field One Special Lecture was delivered on June 29 and again on July 13 by Mr. Eguchi (293 attendees in total: 140 male, 153 female). The Kobe University Faculty of Human Development encompasses both the liberal arts and the sciences, and addresses various issues on human development and its surrounding environment. Students in the faculty range from those who major in astrophysics and computational biology to those who major in art, psychology, and sports science. They are also a diverse and representative group of Japanese young people in terms of intellectual curiosity. The title of the Field One Special Lecture was "What are Interdisciplinary Subjects? ―Using Examples of the Integration of Biology with Physics, Chemistry and Mathematics through the Mediation of the K Computer". Mr. Eguchi's dual focus was the K computer and its versatility, and the importance of interdisciplinary science.

Field One is continuously engaged in educational and outreach activities for high school, college, and graduate school students. Most of the students we encounter major in one of the sciences and are already interested in computers. With the Field One Special Lecture, we were able to reach students with little or no previous exposure to the sciences and the K computer. As a result, we saw a big difference in the understanding of students before and after the lecture.

The most striking response from the students as to supercomputers and the K computer was that they believed supercomputers were different from what they had expected. More than ten percent of students thought that supercomputers had nothing to do with daily life. Those already aware of supercomputers had wondered what kind of change they could expect from improvements in computational speed, until they learned about the versatility of the K computer and its applicability to diverse simulation challenges. Some respondents described a negative image of supercomputers, because they often heard in the media that investment in supercomputers represents a waste of tax money. This Special Lecture offered a good opportunity for us to explain the importance of the K computer in society to such students.

The second most common reaction from students was that they were surprised to discover that supercomputers developed during the past twenty years are impacting our life today, and the prediction that the technology of today's supercomputers will become more common in daily life. Knowing the history and background of supercomputers, they were also surprised about the rapid progress of science and technology, and became more interested in supercomputers. One of the feedback comments, from which one can appreciate how impressions were changed by the lecture, is shown below:
Old supercomputers have been transformed into the personal computers and mobile phones that we use today, and the state-of-the art K computer is destined to become a familiar part of our daily life within the next twenty years. In turn, new supercomputers will be born, and we will enter an unprecedented era in modern technology. Just the thought of it is exciting. –excerpted comment–
During the lecture, Deputy-Program Director Eguchi explained that biology is not a science separate from mathematics, physics, and chemistry, but complements them, and that the K computer can further strengthen such connections. To supplement the explanation, he provided pattern diagrams using global maps. Such notions seemed very new to many of the students, who had just passed university entrance examinations, and all appeared surprised. When the lecture concluded, one liberal arts student stated "It can be said that science supports progress in the world now, but I think it is important to integrate liberal arts into science. What's your opinion?" Mr. Eguchi responded that real-life problems could not be solved by science alone, and described the importance of interdisciplinary subjects, illustrating his answer with examples of approaches to create a safe and secure society. As previously described, the focus of the Faculty of Human Development is interdisciplinary. It was apparent that more than a few of these newly entered students felt anxiety about college life, because of the challenges posed by the more diversified curriculum than undergraduate students at other faculties of Kobe University. It was gratifying to see all participants better understand the importance of acquiring a broad undergraduate education.

Thanks to Professor Naoko Shirasugi of Kobe University, Field One received feedback about the lecture. It was a good opportunity for us to hear the students' direct and honest opinions. It appears likely that the understanding of the relationship between supercomputers and society shared by many students reflects a broader view within Japanese society. In order to win public understanding of the need for supercomputer technologies, it is important to make efforts to "familiarize" the public with supercomputers, even reaching those with no immediate interest in the subject. We hope the activities of Field One will help nurture young people, who will forge our future.

 Finally, Field One wishes to extend its deepest appreciation to those involved from the Faculty of Human Development, Kobe University, including Professor Hounoki, Dean of the Faculty, Professors Ebina and Shirasugi, and, most of all, the 293 undergraduate students.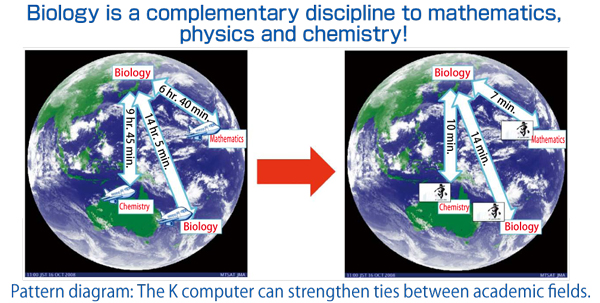 (http://www.data.kishou.go.jp/obs-env/portal/chishiki_ondanka/p01.html)
As part of efforts to strengthen educational and outreach activities, the lectures planned and given by the Faculty of Human Development, Kobe University and Field One in collaboration with RIKEN Advanced Institute for Computational Science and the other four strategic fields in the Strategic Programs for Innovative Research, are as follows:
"Special Lecture on Natural Environmental Science D"
in the second semester of FY 2012
- New science opened up by the K computer-
Nov. 17

"Computing Machinery and the K computer in Society"
 RIKEN Advanced Institute for Computational Science

"History and Changes of the Magnificent Natural Environment
 Surrounding Us"<Field 5>

Dec. 1

"How to Assess the Severity of Energy Problems,
 and How to Overcome Them"<Field 2>

"The Mystery of Microorganisms Coexisting with Humans"<Field 1>

Dec. 15

"The Environment Created by Humans, its Safety,
 and its Soundness" <Field 4>

"Roles of the K computer in the Study of Massive Ocean-trench
 Earthquakes and Disaster Mitigation"<Field 3>