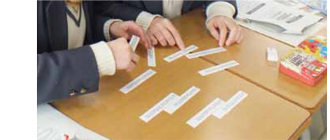 HPCI Program for Computational Life Sciences, RIKEN
Chisa Kamada, Yasuhiro Fujihara, Yukihiro Eguchi
Last December, we held a class named "What is the K computer? Will it change the face of biology?" at Kobe High School and Nishiwaki High School in Hyogo prefecture. We worked on it hoping that many young high school students would participate in computational life sciences and contribute to further development of computational life sciences even after the limited five years of this program. At the opening of the class, we provided three main points that we wanted to talk about in the class:

1) The K computer has become the fastest computer in the world. The key technology that makes it the fastest computer is parallel computation.
2) You also need mathematical principles (mathematics, physics, and chemistry) to study biology.
3) The K computer is a catalyst for integrating biology with mathematical principles.

In May, when we asked the teachers at Kobe High School about the class, they said "please don't give us a lecture using only slides." So, we tried hard to design a class with two practical training sessions. A student commented, "I was glad I had some practical training and I really enjoyed it", which made all our efforts worthwhile.

About 60 students from Kobe High School and about 90 students from Nishiwaki High School joined our classes. First we explained the details of the K computer, and introduced five challenges we are working on in our strategic field. Then, we had practical training sessions for binding and editing a base sequence and for forming peptide bonds, to introduce HPCI Strategic Program Field 1 "Computational Life Science and Application in Drug Discovery and Medical Development" We provided students with eleven pairs of fragments that have about fifteen base pairs, and let them actually try binding and editing. Some students finished in about five minutes, while others were not able to finish even after ten minutes, creating a lively atmosphere in the class. One student commented, "I and my partner tried to bind a base sequence. Despite the small number of base pairs, we had difficulty in finding the correct answer. It's amazing that a computer can bind a much longer base sequence in a moment of time without making any mistakes." We provided all students with molecular models of alanine and the phenylalanine, and let them try to form a peptide bond using dehydration synthesis. This time, the students worked quietly and seriously, and they seemed to be very intent on what they were doing. After we visually showed them the result of a molecular dynamics simulation of a protein following the practical training session for forming a peptide bond, one student said with emotion: "I got a creepy feeling when I watched the moving protein, but I thought it was great when I knew this phenomenon actually occurs in my body." We were surprised and grateful that the students took an interest in this type of analogous practical training, because we thought they were only interested in mobile games, etc.

The HPCI Strategic Program involves the research and development team, as well as a team for promoting supercomputational science and technology. The mission of the team for promoting the technology is to "support the research and development team on achieving their research and development target." The support includes enhancement of massive parallel computation, as well as establishing a framework that allows the research and development team to be supported by society as a whole. The class for high school students is a part of the latter activity. We, as those who were involved with the class, are very happy to receive comments from students who joined the class, such as: "I thought the K computer was just a high performance computer. Now, in this class, I understand the K computer is utilized in various fields, such as medical services, disaster prevention, next-generation manufacturing, and creation of new material and energy. I want to be involved with this kind of work in the future," or "Until now, I thought the K computer was just a computer for performing calculations. I was surprised to hear it relates to biology and physics, and so I now have a greater interest." We would like to hold this kind of class again in the future, as we were requested.

Finally, we would like to thank Dr. Takano of Osaka University for kindly accepting to hold the class in Kobe High School, HGS Hinomoto Plastics Co., Ltd. for kindly accepting to manufacture a special molecular model for this class, and Ms. Namba for preparing the required number of base sequence puzzles for the students who joined the class. We would also like to express our deep appreciation to Mr. Nagasaka of Kobe High School and to Mr. Fujiwara of Nishiwaki High School for giving us these great opportunities.