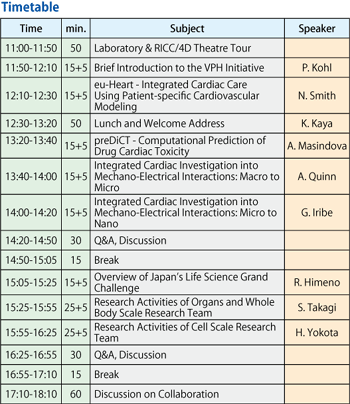 In Europe, the EU's Virtual Physiological Human (VPH) Project is currently underway, led by Prof. Peter Kohl and Prof. Peter Covney. Prof. Kohl's project group visited Kyoto to attend the International Congress of Physiological Sciences held in July and on July 31, RIKEN's Wako Institute hosted a workshop to exchange information and discuss possibilities for future collaboration between his team and our Integrated Simulation of Living Matter Group. Prof. Kohl's group, consisting of researchers mostly from Oxford University in VPH, aims to contribute to medical science by modeling and simulating the entire heart.
The members who visited RIKEN for the workshop were Professors Kohl, Smith, Masindova and Quinn, as well as Professor Iribe of Okayama University, who until recently was a researcher at Oxford. The visiting group was shown RIKEN's testing equipment, which included a 3D internal structure microscope* and a tensile tester, as well as our new supercomputer RICC and 4D visualization system. The visitors showed particular interest in the 3D ISM and the supercomputer. The tour was followed by a meeting at which Dr. Kaya, Program Director, gave an overview of RIKEN and introduced projects run by both parties, while facilitating further understanding of each project through active discussion. As the discussion became too diffuse, covering a wide range of topics, we agreed that a subsequent meeting would be held in the U.K. (or a TV conference session) sometime around October and for interim communication to continue via e-mail to facilitate further review of each other's proposals. During the workshop, we explored areas for possible collaboration projects and long-term co-research themes. The participants from our group were Dr. Kaya, Program Director, Dr. Takagi, Leader of the Organ/Body Scale Team and its members, Prof. Matsuzawa of JAIST, Dr. Yokota, Leader of the Cell Scale Team and its members, staff from RIKEN's Advanced Center for Computing and Communication and the reporter, Ryutaro Himeno.
* The 3D-ISM takes continuous, cross-sectional pictures of a frozen biological sample in progressive slices, eventually creating a three-dimensional image of the entire sample piece. By combining a microscope and a laser, it is capable of taking images at ten micron resolution.