Graduate School of System Informatics, Kobe University
Hisashi Tamaki
(Cell Scale WG)
Diabetic patients have been increasing dramatically all over the world today, especially among Asians. Most Asian diabetic patients suffer from Type 2 diabetes caused by inadequate insulin secretion. Healthy people produce insulin granules in the Golgi body of pancreatic cells. Then the granules are transported to the cell membrane for secretion. Type 2 Diabetic patients have insulin granules in the cell though their secretion is inhibited by some factor. For revealing the factor and dealing with it properly, it is necessary to elucidate the insulin secretion mechanism in pancreatic cells.

Since many studies have been carried out on the insulin secretion mechanism of the cell membrane, considerable progress has been made. However, it is also a fact that the intracellular mechanism of granule kinetics has still hardly been clarified. Insulin granule kinetics after glucose stimulation has recently become observable. Based on the result of this partial observation and biological evidence, we have prepared a simulation model for insulin granule kinetics in pancreatic cells. With this simulation model, we are trying an approach to acquire new insight into insulin granule kinetics by reproducing typical phenomena found in insulin granule secretion.

In insulin granule kinetics or the transportation process of insulin granules produced in pancreatic cells to the cell membrane for secretion, the granules are believed to move along the cell skeleton. For constructing the simulation model, we divided the model into four stages based on the skeleton of a pancreatic cell and the principle of granule kinetics, i.e., granule producing site, interior layer, exterior layer and granule secretory part (Fig. 1).

Regarding the phenomena we aim to reproduce, we considered that the insulin granule secretion process consists of three major phases, (1) Phase I: Steep increase in secretion occurring in connection with glucose stimulation, (2) Phase II: Moderate increase in secretion after glucose stimulation, and (3) Phase III: Small amount of continuous secretion called basal secretion. Then, we focused on the typical secretion patterns found in healthy subjects and diabetic patients, and after drug administration, respectively. (a) Healthy subjects: Phase I, II and III are observed successively. (b) Diabetic patients: Phase I does not appear. (c) At drug administration: Both Phase I and II appear strongly. We aim to reproduce the secretion processes with those typical patterns.

As an example simulation, Fig. 2 shows the results for two cases simulating a healthy subject and a diabetic patient, respectively. Although the difference in parameter setup between Case 1 and Case 2 is only the number of secreted granules at the granule secretion site under glucose stimulation, it was confirmed that biphasic insulin secretion and insulin secretion lacking Phase I, both of which are found in real observation, were able to be reproduced in Case 1 and Case 2, respectively.

Currently we are searching for a parameter setup for reproducing insulin granule secretion after drug administration. Additionally, we think it is also vital to conduct a more detailed study on the impact of the individual parameter setup on kinetics and secretion by improving simulation results which can reproduce typical secretion patterns. Further, we would like to perform studies for setting parameters based on available data of granule kinetics in pancreatic beta cells (which would be considerably limited and fragmentary), creating a satisfactory simulation scenario and refining the simulation through coordination with metabolic system simulation.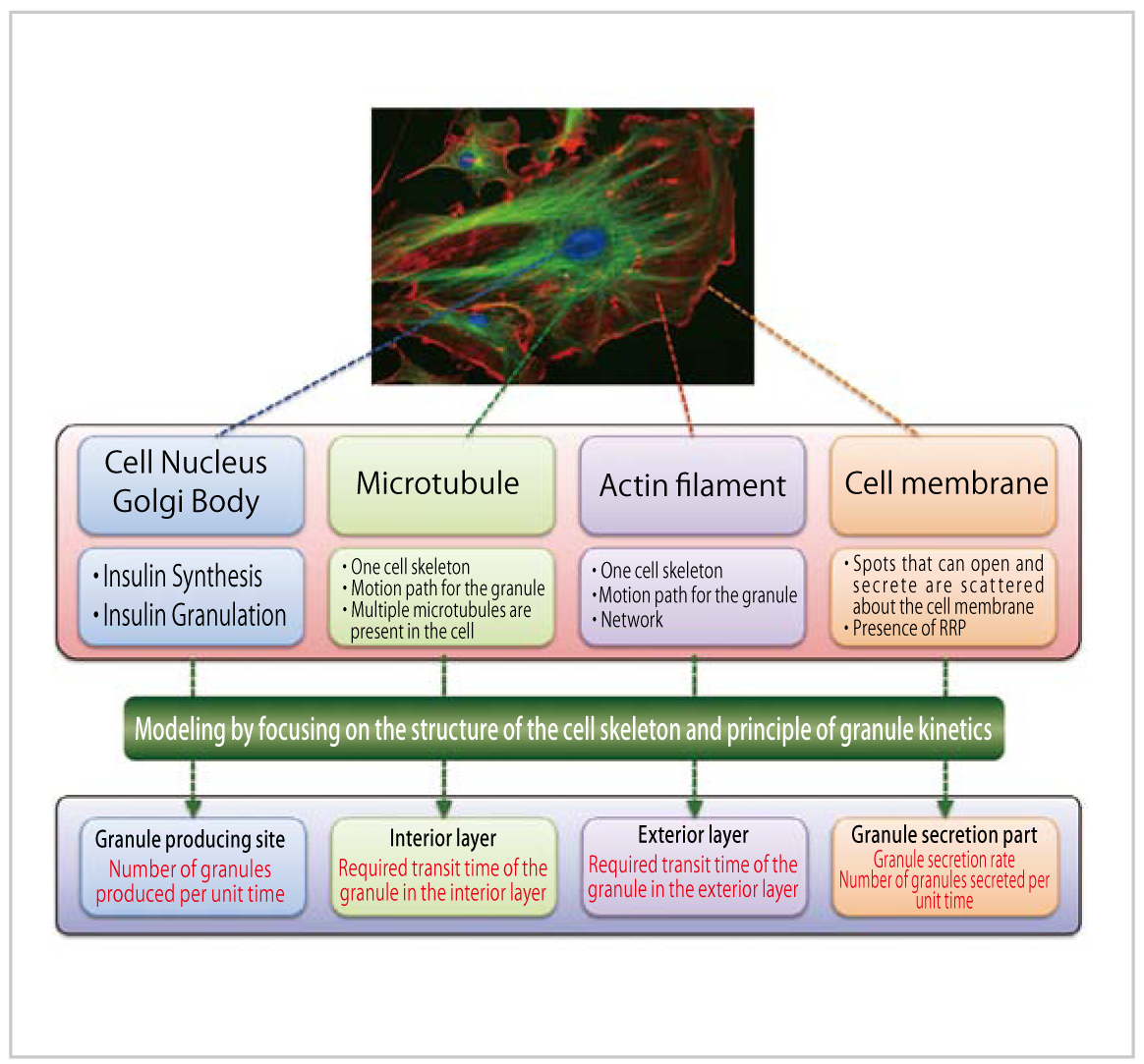 Fig. 1 : Outline of insulin granule kinetics model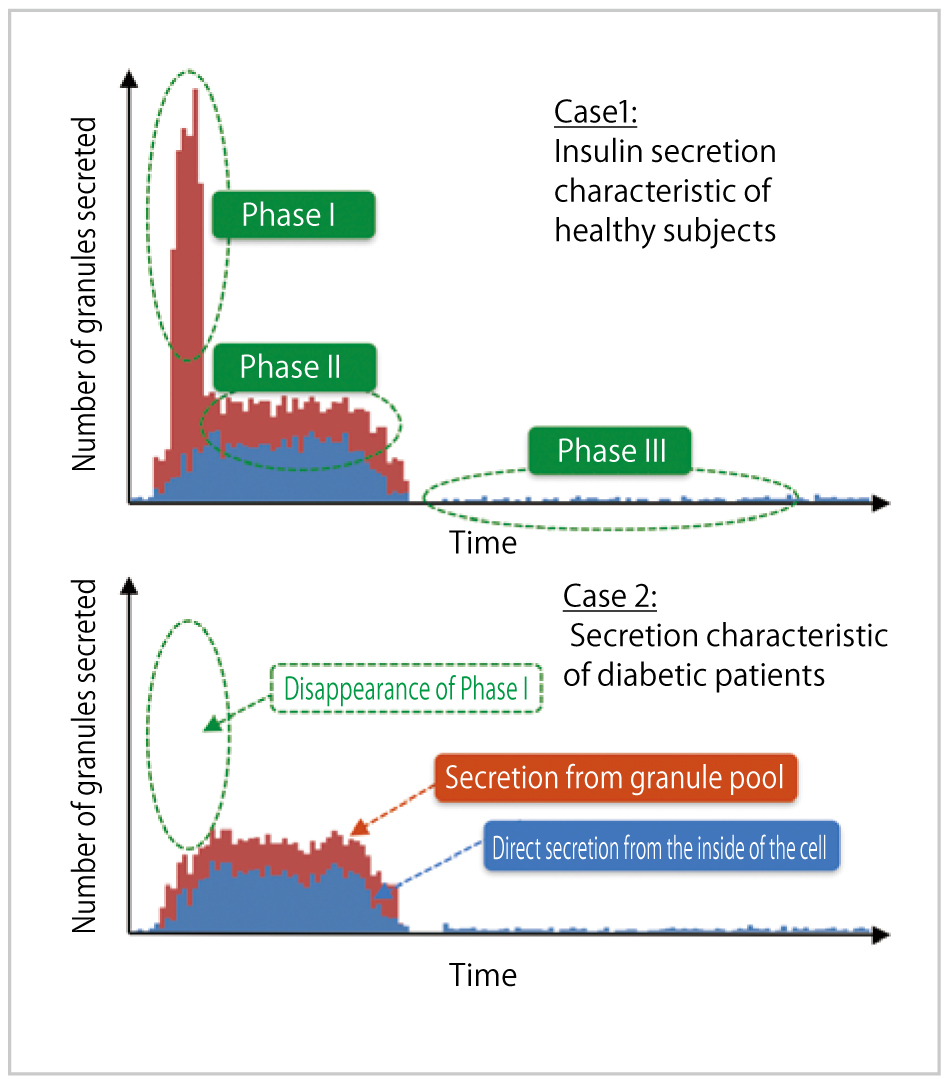 Fig. 2 : Simulation Results