The Molecular Biology Society of Japan and the Japanese Biochemical Society are both large academic societies representing biology study in Japan which have more than 10,000 members. In 2010, particularly, the annual congress of both societies was held as a joint meeting under the name BMB2010. We, the "Integrated Simulation of Living Matter" project, held a workshop at this congress to appeal for research in the biological field.

This project is a challenge for various problems in life science from the viewpoint of computational science, while on the other hand, expectations for computational science have also been increasing tremendously in the field of biology in recent years. This workshop was a timely project from these two aspects.

In this program, the major point of the project and outline of the whole project were explained, and then multi-scale research for life phenomena from the micro-scale to the macro-scale was introduced.

On the day of the workshop, the conference room with a capacity of more than 100 was so crowded that some people had to stand, which suggested the level of interest in this project in the biology field. A question-andanswer session was also held interactively, and the project members obtained meaningful opinions from biologists.

It is considered that the computational scientific method in life science will become increasingly important in the future. In the future, life science, and communication between the experimental method and the computational scientific method will become essential. It can be said that this workshop played a part in the creation of such bidirectional communication.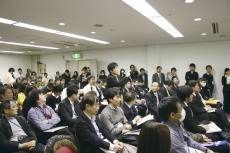 BMB2010 Workshop "Integrated Simulation of Living Matter of the Next-Generation"
14 : 30 -16 : 30, December 9 (Thursday) at 2B Confer ence room of Kobe International Exhibition Hall
Organizer:
Atsushi Mochizuki (Advanced Science Institute, RIKEN)
Hideo Yokota (Computational Science Research Program, RIKEN)