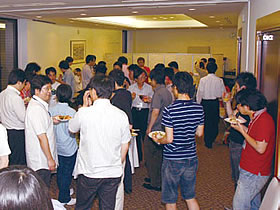 RIKEN, Computational Science Research Program
Yasuhiro Ishimine (Organ and Body Scale WG)
The Institute of Medical Science, The University of Tokyo
Teppei Shimamura (Data Analysis WG)
RIKEN, Computational Science Research Program
Yasuhiro Sunaga (Cell Scale WG)
Kyoto University Graduate School of Informatics
Naoki Honda (Brain and Neural WG)
RIKEN, Computational Science Research Program
Gen Masumoto (High-Performance Computing Team)
RIKEN, Computational Science Research Program
Kosuke Matsunaga (Molecular Scale WG)
(Order of the Japanese syllabary)
 At Shonan International Village Center in Hayama Town, Kanagawa Prefecture, the "Summer school 2010 for the Integrated Simulation of Living Matter" was held for 3 days from July 5 to 7, 2010. This summer school was mainly planned and managed by young researchers participating in the project for the next-generation integrated simulation of living matter. A total of 57 members including post-doctoral researchers and graduate school students in related fields, who are participating in this project, presented lectures and exchanged opinions concerning numerical simulation and large-scale data analysis related to life sciences. Here, we will give an overview of the summer school, interweaving responses to questionnaires obtained from participants and details of reports submitted by all participating graduate school students.
 The summer school was basically carried forward in a lecture mode. First, as a "keynote lecture," Koji Kaya, a director of the Computational Science Research Program, gave a summary of the research in which the director himself was engaged, describing his theory concerning the attitude and backbone for research which a first-class researcher should always strive to maintain. Then, the latest research achievements were introduced by a total of 14 researchers representing 6 teams affiliated with the next-generation integrated simulation research promotion group for living matter for 3 days (see Table on p. 11 for details of lecturers and lecture titles). In the afternoon of the second day, a time for general discussion was established, the latest information about the progress and future prospects of the project was provided by Ryutaro Himeno, the sub-director of the Computational Science Research Program, and then a question-and-answer session and exchange of opinions by all the participants was held concerning measures for effective use of supercomputers. Extra time was also provided to exchange information individually, such as for a get-together and poster sessions. The lunch break on the second day was made slightly longer for the same purposes, not only information exchange but also voluntary intercommunion among participants, such as enjoying football outdoors.
 According to the results of the questionnaire, the lecturers and content of lectures were basically satisfactory, and impressions were manifested such as "I realized that there were research themes at various levels (from the level one molecule to the level of the tissue) ," "since there were some questions which could not be conceived from an insider's viewpoint - for example, a question about a theory that we ourselves accept implicitly - I could appreciate an outsider's viewpoint," "I found out which project covers the Petacom plan, what people are involved, what I can do using Petacom and what are the problems in using Petacom," and "I understood that, since there may be a large computation effort in performing simulations to understand one factor, next-generation supercomputers have great significance". There were also impressions referring to expansion of future collaborative research, such as "I understood that a lot of researchers have so much in common in that we are dealing with a certain problem of optimization", and "since there are some common areas among teams as far as concerns not only themes but also procedures, I expect that better research would be possible if there were active collaboration".
 As for demands for the future, moreover, there were some opinions such as "I want you to hold an invitation lecture of a famous researcher in the field of biology or a person who is doing simulation in the research and development division of a company", and "it may be better to hold it at a meeting like a study session with the people like graduate school students." There were also some unique opinions such as "I want to discuss things in view of what goes on in other fields", and "it might have been interesting if a scientific contest were held in a team session consisting of roommate members in the hotel."
 The biggest regret as a secretariat was that there were multiple opinions that we should have paid attention to participation of graduate school students. Some graduate school students said, "I thought it was wonderful that I did not feel any barrier of position and field at all," "it was a wonderful session which was not too rigid or relaxed, and suitable for the title of summer school", and "I heard opinions from people of quite different background, approach, experience and age, who are different from those with whom I usually interact, and this summer school was a good turning point for my future research life," whereas there were some impressions like, "I felt that only a person in a high position or postdoctoral researcher could ask questions", and "I felt atrophied because the participants other than me were postdoctoral researchers." Moreover, there was an impression, "the story about budget and evaluation of project was stimulating for a student who wants to purely pursue science in a negative way." Since there were some opinions like, "individual self-introduction was required," as an answer to the questionnaire, we felt that more significant interchange may be possible by taking time for orientation at the beginning of the summer school to shorten the mental distance between each other and to create a mood to deal with common subjects.
 Based on the above experience in this summer school, we expect that a more fulfilling summer school will be held in and after next year.