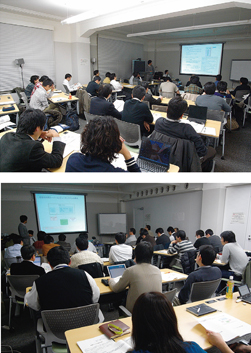 On December 24, 2009, researchers participating in the Next-Generation Integrated Simulation of Living Matter (hereinafter ISLiM) attended a lecture held at RIKEN's Next-Generation Supercomputer R&D Center. Topics of the seminar included details of the next-generation supercomputer currently under development and key points in application development for obtaining optimal performance results.
ISLiM is developing software that uses the next-generation supercomputer,s superior capabilities to its fullest. However, as the next-generation supercomputer itself is still in the developmental stage, an environment for the verifi cation of such software is not presently available. As a result, our software development relies on information obtained from the next-generation supercomputer being developed.
The lecture was held twice due to the turnout of approximately seventy participants, which exceeded the capacity of the room. Lecturers from the R&D Center described the configurations, characteristics and specifications of the next-generation supercomputer, followed by key programming data and focus areas in order to ensure optimal performance.
Topics during the Q&A session ranged from a streamlined library to programming language options and compilers, as well as to the development of support software, enabling the participants to have a tangible image to reference with regard to software development. A proposal made by the ISLiM researchers in respect to applicable programming languages will be reviewed by the hardware developers.
The seminar provided an opportunity for software and hardware developers to exchange views on a wide range of topics. Through the promotion of this kind of partnership, we are continuing our efforts in developing software that enables the optimal use of the capabilities of the next-generation supercomputer.
In addition to research updates, the event features presentations by leading researchers in various fi elds invited from around the world.
●Keynote lecture High performance and distributed computing in biomedical research
Prof. Peter Coveney,
Centre for Computational Science, Department of Chemistry University
College London
Date :

Mar 18 (Thu) and 19 (Fri), 2010 from 10:00 AM to 6:00 PM (Reception: March 18 from 6:30 to 8:00 PM)

Location :

My Plaza Hall (Marunouchi, Chiyoda-ku, Tokyo)
●For program and registration, go to http://www.csrp.riken.jp/2009/2ndBSCS.html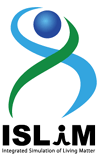 The three main logos of the Next-Generation Integrated Simulation of Living Matter are essentially the same with only minor differences such as the position and size of the program's abbreviated name, as you can see in the designs on the left and on the cover page (there are actually six variations, to be precise).
They were designed to express the goal of our project, the analysis of the human body, by combining an abstracted image of a genome and the shape of the body. The small letter' i' in "ISLiM," the abbreviated version of the project's name, is also shaped like the body.